Sauno Wood Kiln VT3.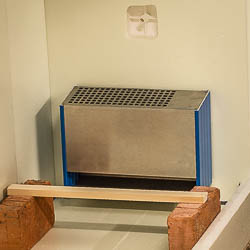 I'm using a Sauno VT3 steam kiln, which is the smaller of the two models available. The Sauno kiln dries lumber with the help of steam and high temperatures. It releases tensions and gives straight lumber without cracks. And it's relatively easy to handle and after using it for a few runs, you learn how it works and you just have to look at it every few days
The drying method is called relax drying. This is the same method that large sawmills use for drying their best lumber, in order to reduce the occurrence of cracking and other damages caused by accelerated drying.

The drying process first heating up and steaming the lumber at temperature of 70-75°C (158-167°F) the cell structure of the wood is changed, which makes it possible for water to move outwards from inside the wood. The next step is to dehumidify the lumber at 40-50°C (104-122°F).
The drying usually takes 3-4 weeks and then I get a furniture-dry wood that holds 6-8% moisture from green wood, which is very nice.